Messages From The Conservative Garden of Eden
The Anchoress got a peep into my workshop on this one. For reasons I don't understand, Picassa and Hello will not post pictures to Blogger drafts, but only to the main page. So I have to take it over there and immediately republish it to draft to add headers and footers. She saw the pictures below in the transition, and immediately went off on a tear of a refutation about what I might be going to say before I actually got a chance to say it. It's a very good refutation of the notion that she personally has no understanding or experience of poverty, or that Conservatives
intend
for people to live in poverty, and a splendid literary display of I-was-a-Democrat-once-but...
Under the circumstances then, I need to first point out that all of the people in these pictures are dead. They died long ago. Their poverty has ceased to exist. The issue is not about them, not about me, not about the Anchoress, not about the poor who are living now, not about whether they or anyone else feels good despite their poverty, and not about whether they "will always be with us." These folks below are no longer with us and the world they lived in has vanished. We could, however, essentially return to it. There is no inherent reason why not.


The issue is about the United States of America, and what life was like for everybody in the United States of America between 1860 and 1940, and why. Let's take the why first: the people below lived in the Conservative Garden of Eden, the perfect world of nearly absolute government non-intervention in business or in private economic affairs, low to non-existent taxes, and an exaggerated economic extravaganza of market forces which were not only free, but positively free-wheeling.

I could show you pictures of Delmonico's, the first great American restaurant; I could show you pictures of the well-to-do carriages on Fifth Avenue before World War I; I could show you the magnificent interiors of the Chrysler Building or the rich, modernist, Donald Deskey designs for the lounges in Rockefeller Center, or for Nelson Rockefeller's private apartment. I know where these pictures live and I could find them and post them on my blog.

But they would not be essentially any different than pictures today of the life of the rich and famous. The pictures below are of ordinary people living and working in a way which is essentially different than ordinary people live and work today. The life of the rich and famous has not vanished from our midst; the life of these people largely has.

The reason it disappeared is simple: intelligent government intervention in, regulation concerning, and management of, the "free market economy". It is also about the corresponding taxes we all have to pay for such intervention, regulation, and management. They made the life below disappear. Their removal will make the life below return. Period. For 25 years this intervention, regulation, and management has been under continuous ideological and political assault by the Republican Party. I have written about the results here, here, here, and here, if you are inclined to read them. We are far closer now to a return to the world below than we were in 1980 and this is due to that assault, which continues to this day.

Bad ideology leads to bad consequences. If you plant corn, you get corn. If you plant soybeans, you get soybeans. The results are not interchangable.



In a room not thirteen feet either-way slept twelve men and women, two or three in bunks set in a sort of alcove, the rest on the floor. A kerosene lamp burned dimly in the fearful atmosphere, probably to guide other and later arrivals to their "beds," for it was only just past midnight. A baby's fretful wail came from an adjoining hall-room, where, in the semi-darkness, three recumbent figures could be made out. The "apartment" was one of three in two adjoining buildings we had found, within half an hour, similarly crowded. Most of the men were lodgers, who slept there for five cents a spot. --Jacob Riis, 1886, How The Other Half Lives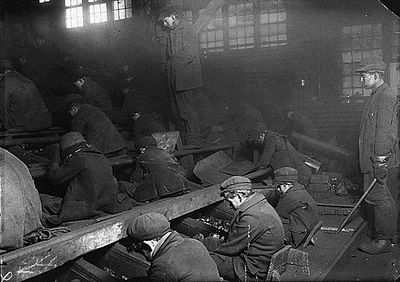 View of the Ewen Breaker of the Pa. Coal Co. The dust was so dense at times as to obscure the view. This dust penetrated the utmost recesses of the boys' lungs. A kind of slave-driver sometimes stands over the boys, prodding or kicking them into obedience. S. Pittston, Pa. --Lewis Hine, 1908-1912, for the National Child Labor Committee




Family and neighbors working until late at night sewing garters. This happens several nights a week when there is plenty of work. The youngest work until 9 p.m. The others until 11 p.m. or later. On the left is Mary, age 7, and 10 year old Sam, and next to the mother is a 12 year old boy. On the right are Sarah, age 7, next is her 11 year old sister, 13 year old brother. Father is out of work and also helps make garters. New York City.--Lewis Hine, 1908-1912, for the National Child Labor Committee




One of the spinners in Whitnel Cotton Mill. She was 51 inches high. Has been in the mill one year. Sometimes works at night. Runs 4 sides - 48 cents a day. When asked how old she was, she hesitated, then said, "I don't remember," then added confidentially, "I'm not old enough to work, but do just the same." Out of 50 employees, there were ten children about her size. The overseer said apologetically, "She just happened in." She was working steadily. The mills seem full of youngsters who "just happened in" or "are helping sister."--Lewis Hine, 1908-1912, for the National Child Labor Committee




The Gudgers' house, being young, only eight years old, smells a little dryer and cleaner, and more distinctly of its wood, than an average white tenant house, and it has also a certain odor I have never found in other such houses: aside from these sharp and yet slight subtleties, it has the odor or odors which are classical in every thoroughly poor white southern country house, and by which such a house could be identified blindfold in any part of the world, among no matter what other odors.

It is compacted of many odors and made into one, which is very thin and light on the air, and more subtle than it can seem in analysis, yet very sharply and constantly notable. These are its ingredients. The odor of pine lumber, wide, thin cards of it, heated in the sun, in no way doubled or insulated, in closed and darkened air. The odor of woodsmoke, the fuel being again mainly pine, but in part also, hickory, oak, and cedar.

The odors of cooking. Among these, most strongly, the odors of fried salt pork and of fried and boiled pork lard, and second, the odor of cooked corn. The odors of sweat in many stages of age and freshness, this sweat being a distillation of pork, lard, corn, woodsmoke, pine, and ammonia. The odors of sleep, of bedding and of breathing, for the ventilation is poor. The odors of all the dirt that in the course of time can accumulate in a quilt and matress. Odors of staleness from clothes hung or stored away, not washed.--Text by James Agee, Photograph by Walker Evans, 1937, Let Us Now Praise Famous Men




Near closing time on Saturday afternoon, March 25, 1911, a fire broke out on the top floors of the Asch Building of the Triangle Shirtwaist Company. By the time the fire was over, 146 of the 500 employees had died. The 240 employees sewing shirtwaists on the ninth floor had their escape blocked by back-to-back chairs and workbaskets in the aisles. The 75-foot long paired sewing machine tables obstructed essential access to the windows, stairs, and elevators.

The Triangle Waist Company was in many ways a typical sweated factory in the heart of Manhattan, at 23-29 Washington Place, at the northern corner of Washington Square East. Low wages, excessively long hours, and unsanitary and dangerous working conditions were the hallmarks of sweatshops.

Nine days before the Triangle Fire, on March 16, the New York Call published excerpts from the report of Dr. George M. Price, the New York Joint Board of Sanitary Control's director. Ninety-nine per cent of the shops were found to be defective in respect to safety: 14 had no fire escapes; 101 had defective drop ladders; 491 had only one exit; 23 had locked doors during the day; 58 had dark hallways; 78 had obstructed approaches to fire escapes; and 1,172, or 94 per cent, had doors opening in instead of out. Cornell University, The Triangle Fire




Max Blank and Isaac Harris, who comprised the firm whose employees were burned, and who had been already indicated by the Grand Jury, were declared responsible for the death of the two women whose cases were presented to the coroner's jury, because of culpable and criminal negligence in leaving a door locked which should have permitted these women to escape.

Furthermore, the jury declared that no attention had been given or means provided for quick exit of the employees, but that, on the contrary, their safety had been utterly disregarded. The crowding of tables and lack of passageways are instanced, as well as the locking of doors.

The owners of the Triangle Shirtwaist Company, were indicted on April 11th in the death of Margaret Schwartz. The trial began 8 months later only to finish in 18 days. On December 27th factory owners were acquitted of responsibility. Three years later 23 individual suits were settled at a rate of $75 per death. Cornell University, The Triangle Fire

Never again. Never, never, never, again.